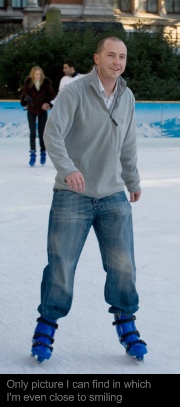 Hi there, I'm Steve, a .NET developer living and working in Bristol, England.
Current work
Right now I'm working as a developer for Microsoft in the team that brings you the ASP.NET technology stack, IIS, and other web things.
Previously I developed .NET software as a contractor/consultant for clients in Bristol and beyond, plus wrote some books for Apress, such as Pro ASP.NET MVC Framework.
From time to time, I get to speak at user groups and conferences, and recently have been running a bunch of training courses on topics such as C#, SQL Server, and of course ASP.NET MVC.
Quick history
I grew up in the mighty steel city of Sheffield, went off to Cambridge University to study a BA and Masters' in mathematics, then decided to stick around in Cambridge for a few more years. In that time I married my wonderful wife Zoe, and developed web and desktop applications for a few local software companies. The last company I worked for in Cambridge was Red Gate Software (a great company to work for), where I was part of a small team who built www.sqlservercentral.com among other things.
In May 2008, Zoe and I moved across the country to Bristol. Yes, it's always raining in the south west, but at least Bristol is a proper city. Here I've got involved in DotNetDevNet, the local .NET user group.